Hair loss can be a concerning issue that can effect both males and females. The reason for hair loss varies: stress, hormone dysregulation, genetics, or other factors. Hair loss can leave a person feeling self-conscious about how they look, lacking confidence to try new things, or shy of meeting new people.
There are several different options available to deal with hair loss; prescription drugs, topical chemicals or even hair transplantation. These choices often carry unwanted side effects but none of them treat the underlying medical problem.
WHAT IS PRP TREATMENT?
PRP (Platelet Rich Plasma) is a natural rejuvenating method using your body's own powerful blood and growth factors. It is an affordable and easy way to regain your hair density without surgery or harmful side effects. Blood is drawn from the patient and the platelets are centrifuged at elevated speeds to create concentrated natural growth factors.
By introducing your body's own platelets back into your scalp, the existing tissues are effectively stimulated and strengthened which naturally regenerates hair follicles.
PRP for Hair Regrowth
Increases blood supply to the follicle
Increases shaft size (thickness)
Triggers and maintains the growth phase
Controls hair growth cycle
Decreases hair loss
HOW IT WORKS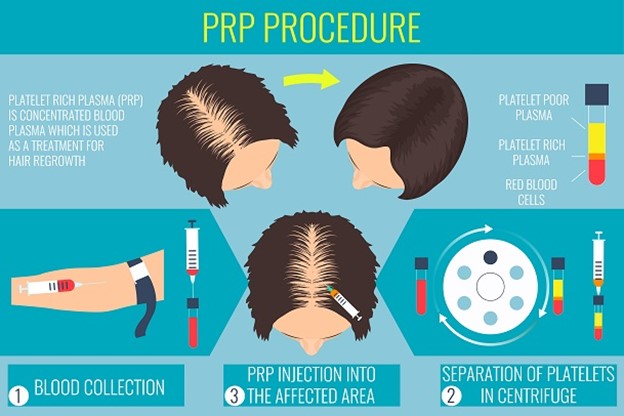 Platelets contain healing growth factors. Those growth factors are like "signal callers" that give instructions to your tissue to regenerate and multiply. This has led medical professionals to utilize PRP for wound healing (to speed up recovery time) and to regrow healthier, stronger tissue. Now, doctors have discovered new benefits for hair thickening and regrowth. With PRP for Hair, your own growth factors and stem cells work together to reverse miniaturization of the hair follicles and jumpstart dormant hair cells back into the growth stage.
HOW LONG DOES THE PROCESS TAKE?
The blood draw takes just a couple of minutes, followed immediately by the 10-minute centrifugation. The time involved for the procedure varies to the area being injected. It is usually only 30 minutes total.
HOW MANY TREATMENTS ARE REQUIRED?
Treatment will vary based on your needs. Initially, your provider may recommend several treatments, spaced 1 month apart. After the initial treatment, many physicians suggest maintenance treatments 2-3 times per year.
CAN A PRP PROCEDURE BE PAINFUL?
The PRP solution does not usually sting or burn. There may be some sensitivity. However, most physicians utilize effective anesthetic solutions, such as cold ambient air or a topical analgesic to minimize any potential discomfort. There may be some temporary discomfort or possible redness and inflammation at the injection sites, but it resolves quickly.
IS THERE ANY RECOVERY TIME?
There is no downtime or a long recovery process. You may take a warm shower the evening of the treatment. In addition, it is advised to avoid using any harsh dyes or chemicals on your hair for 48 hours.
IS PRP SAFE?
Since the autologous Platelet-Rich Plasma (PRP) is produced from a patient's own blood, there is virtually no risk of an allergic reaction or rejection.
Please call Kinetic Patterns at 604-876-1150 to book a free 15-minute consultation appointment to see if this is the right treatment for you